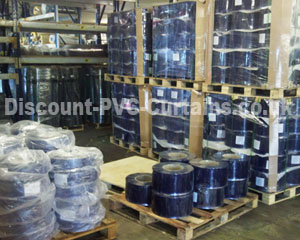 About our PVC Curtain Kits
We manufacture bespoke PVC strip curtain kits to fit virtually any size doorway.
The kits are supplied to you complete with everything you need and are ready for immediate fitting. The hook-on hanging rail is pre-drilled for either wall or soffit mounting.
Use our cost calculator for an instant quote.
We also supply a range of 'off the shelf' pedestrian PVC curtain kits to fit most standard sized pedestrian doorways.
Our PVC
Our low odour, highly transparent PVC strip is manufactured exclusively in the UK and our range of PVC strip curtains are designed to provide cost effective segregation and protection solutions, guaranteeing to meet your specific needs.
They are suitable for use in a huge variety of environments from warehouses to kitchens to shops and offices, as well as refrigerated trucks and even outdoor animal shelters - whatever your demand, we can supply.
We only sell high quality PVC - Meeting and exceeding all food grade requirements - and available in a variety of different types, grades and colours, depending on application
Energy efficient and an excellent thermal insulator, whether it's keeping the heat - or cold - in or out


A great protector from other elements including noise pollution, dust contamination, insects and other airborne pests, while still allowing easy access for pedestrians and vehicles


Durable and flexible


Transparent to provide maximum visibility and allow natural light to pass through with minimum distortion


low odour and non toxic


UV stabilised and longer lasting than imported and cheaper substitutes
All curtains are made to order and are simple to hang and to take down making fitting, cleaning and maintenance very straight forward.
Fixed hanging system


The hook-on hanging rails used in our fixed curtain system are manufactured from high quality 1.5mm stainless steel, or for very large curtains, reinforced 2mm thick galvanised steel. They come in convenient 1 metre lengths, which are simply butted together to make the required length of rail. The rails we supply all use the industry standard 41mm wide hooks to hang the curtains. The simple 'hook-on' system facilitates removal of the curtain, strip by strip, for cleaning, taking down during summer months or easy replacement. Each individual PVC strip has a pre-fitted stainless steel or polycarbonate hanging plate at one end which easily hooks onto the hanging rail.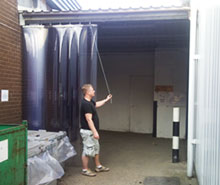 Sliding hanging system
Our sliding mechanism is singularly unique in the UK: we are the only company to make PVC strip curtains which utilise a concertina type system. The curtain strips simply collapse into the edge of the doorway opening, functioning in a similar way to vertical window blinds. This makes them ideal for rooms with limited clearance either side of the entrance or partition. Sliding hanging rails are made from a high quality running system with all bearings greased for life. The traditional sliding curtain mechanism is still available, but it requires clearance either side of the doorway opening for the solid rail to slide into