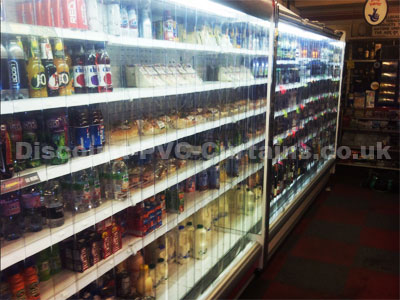 Fixed over the front of a chiller / multideck, refrigerated cabinet or deli counter, our food grade and low odour PVC strip chiller blinds are perfect for helping to maintain climate control, whilst providing easy access into the refrigerated or chiller unit.
With PVC strips at just 100mm wide and 1.2mm thick and with a discrete brushed aluminium rail, these lightweight and transparent curtains are designed with appearance in mind as well as functionality.
They are unobtrusive and are perfect for any consumer facing environment. With a considerable amount of power used to chill the warm air which gets into the refrigeration unit, our made to measure chiller blinds are a cost effective temperature control solution for these installations and can considerably reduce energy costs, and as a consequence they also extend the working life of the appliance.
Use the following quote generator for a chiller blind quote...