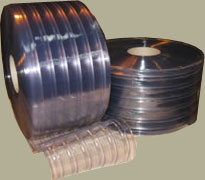 Available in standard or Polar grade, our double-ribbed PVC strips curtains are ideal for doorways and loading bays with heavy industrial use from fork-lift truck traffic and similar machinery.
Our robust ribbed PVC - also known as 'bumper strip' or 'anti-scratch PVC' - has been designed to withstand the repeated impact of fork lift trucks and similar equipment minimising damage to the PVC strip and helping to maintain clarity and light transmission.
Our fork lift truck curtains are an economical solution to protect people and goods from adverse environmental conditions and to segregate areas.
They are easy to install and with all the insulating qualities - and other benefits - of our standard PVC, they can help save hundreds of pounds in energy costs each year.
For a quote simply click HERE and select one of the 'Ribbed' PVC types.