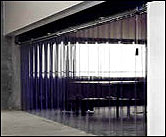 Providing an economical alternative to more permanent solutions, our transparent, durable and flexible PVC strip curtains easily and simply segregate rooms.
With all the benefits of our standard PVC, our curtains used as room dividers also provide the ideal solution for reducing noise and dust pollution.
An added benefit is the complete freedom of access when used in conjunction with our sliding system.
For a quote simply click
HERE