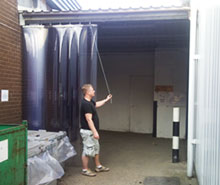 Although our PVC curtains are designed to allow easy passage through them, there are times when you will want to slide your curtains out of the way to allow access for large or delicate objects. In these circumstances our unique sliding plastic strip curtains are ideal.
They are designed to collapse into the side of a doorway opening in a similar way to vertical window blinds. This makes them ideal for rooms with limited clearance either side of the doorway, or for room dividers and partitions.
Our sliding curtains facilitate unrestricted traffic flow, without the risk of damage to the curtains or to the loads passing through.
In addition they help reduce repair and maintenance costs, and the enhanced visibility improves safety.
For a quote simply click HERE and select one of the 300mm wide PVC types and select 'Sliding' from the drop down menu.