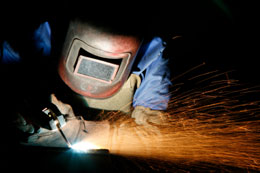 Manufactured from welding grade PVC, these curtains are ideal for environments requiring separate welding bays. They have been specifically designed to protect against welding 'flash' and dangerous radiations and projectiles emitted by welding activity.
By screening out hazardous UV rays and welding flash, our high quality welding grade PVC provides optical protection from the possible damage to eyes caused by welding and offers fire protection from sparks and hot metal projectiles. Our welding PVC curtains are transparent but coloured in green. These curtains also reduce airborne noise by 30dB.
For a quote simply click HERE and select one of the 'Welding' PVC types.